Kent Police 'inaccurately recorded crimes', HMIC finds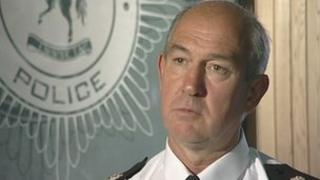 One in 10 crimes has been inaccurately recorded by Kent Police and some victims have been failed, Her Majesty's Inspectorate of Constabulary has found.
Its report into the way crime figures were compiled by the force found an "institutional bias towards chasing numerical targets for solving crime".
It found 25% of crimes recorded as "no-crimes" were wrongly classified, among them rapes and robberies.
Kent Police said it took the findings of the report "extremely seriously".
The report by Her Majesty's Inspectorate of Constabulary (HMIC) follows the arrest of five officers last year over claims of irregularities in the way prisoners were dealt with.
The officers no longer face any criminal proceedings and the matter is being considered internally, HMIC said.
Seeking out cannabis users
Four of the officers are currently suspended from duty, while one is on restricted duties.
The report, entitled Crime Recording in Kent, was commissioned in February by the Police and Crime Commissioner (PCC) for Kent, Ann Barnes.
It found Kent Police was a force where officers had been "pursuing crimes on the basis of how easy they were to solve, rather than on their seriousness, or their impact on victims or communities".
HMIC cited evidence of officers actively seeking out cannabis users in order to administer formal warnings, and a proactive policing team, set up to tackle burglary, being inappropriately redeployed to deal with cases of shoplifting.
The force was also not recording crime accurately, and of 303 cases reviewed, one in 10 crimes was not recorded correctly.
HMIC said some officers were focusing on "those categories of crime which have the best chance of a quick and easy resolution".
"As a result, resources have sometimes been diverted from tackling other crimes."
However, it said it had found no evidence of corrupt activity, and that the force had made a number of important improvements.
'Utterly unacceptable'
It concluded by saying that more needed to be done before the people of Kent could be confident that crime and resolution figures published by the force were as accurate as they should be.
Following the publication of the report, Ms Barnes expressed her "anger and utter dismay for victims".
She said: "I'm staggered that 10% of crimes are not being correctly recorded and it is utterly unacceptable.
"I despair for some of the victims of crime who have been very poorly served, as every single victim of crime should receive a quality service.
"They must be at the heart of the policing service in Kent."
Ms Barnes said she had "every confidence that every single member of Kent Police will work positively to make sure that the people of Kent can, in the very near future, trust the force's crime figures".
'Change the culture'
She added that she had asked HMIC to reinvestigate the force in December of this year to see what progress has been made.
She urged her national PCC colleagues to carry out an in-depth investigation into their own force's crime-recording figures, and said she would be holding a public meeting on Tuesday with the Chief Constable of Kent Police Ian Learmonth and HMIC to discuss the matter further.
Mr Learmonth said: "I am pleased that the report notes many areas of good practice and that HMIC supports the work we have already carried out to address the issues raised.
"I would like to reassure the people of Kent that we are fully committed to delivering a high quality service to victims of crime."
Ian Pointon, chairman of the Kent Police Federation, said: "Work is already under way to change the performance culture within the force, to focus more keenly on the quality of service delivery as opposed to target chasing."