Track stolen from Mote Park miniature railway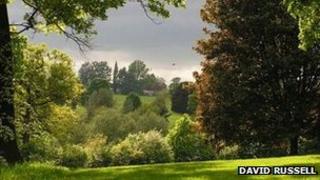 Thieves have ripped up more than 120ft (37m) of track from a miniature railway in Kent.
The theft, which happened at Mote Park in Maidstone last week, has been described as "devastating".
The railway is normally open to the public on Sunday afternoons during the summer for 30p a ride.
The Maidstone Model Engineering Society, which runs it, said it would have to run a restricted service over the next few weeks.
Tom Parham, chairman of the society, said: "We put so much love into it and then to find that is almost devastating really.
"It puts a stop to everything we want to do and what we stand for - to give an affordable activity for people to come and enjoy.
"We only charge enough to keep the club running.
"We don't take anything out of it ourselves which is why our rides are so cheap."
The society is appealing for donations to cover the cost of materials to replace it and lost revenue.