Kent calligrapher awarded MBE in Queen's Honours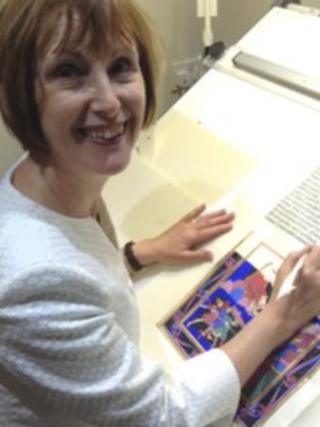 A calligrapher who has helped to preserve medieval methods of writing has been recognised in the Queen's Birthday Honours list.
Patricia Lovett, from Sevenoaks, in Kent, is a professional scribe, illuminator, teacher and author.
She has been recognised with an MBE for services to heritage craft and calligraphy.
She said the honour was good for heritage and crafts which were "in the DNA" of the country.
She said: "I'm very fortunate that I've been asked to teach and lecture all over the world, talking about the practical ways in which manuscripts were made.
"There are very few of us who do that."
'Old codgers'
She said the heritage movement was a multi-billion pound industry.
"So people's perception of old codgers whittling a spoon in a museum is wrong," she said.
Other people from Kent to have been recognised in the list include Michael Aiken, from Penshurst, who is the chairman of The Mary Rose Trust.
He has received an OBE for services to national heritage.
Janice Chapman received a British Empire Medal (BEM) for services to young people.
She has been the leader of the Brownie Guide Pack, in Groombridge Village, for 30 years.