Complaint lodged over £3.4m Thanet TransEuropa ferry debt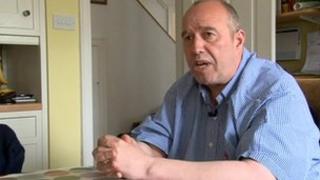 A council which allowed a passenger ferry company to accrue £3.4m of debt by waiving port fees has been referred to the European Commission (EC).
The debt came to light after Belgian firm TransEuropa went into administration in April, ending the only service from Ramsgate.
Thanet Green Party councillor Ian Driver has lodged the complaint, saying the deal was unauthorised state aid.
The council said the debt was not state aid and it did not need EC consent.
'Gamble in casino'
Thanet District Council (TDC) said last month it had been providing "temporary financial support" to the ailing ferry company since March 2011.
It had allowed TransEuropa to delay the payment of fees for using the port.
It said the arrangement was "to ensure the on-going future of the business".
The council said it would try to recover the debt, but would have to raid its reserves, including taking £1m from housing benefit subsidy.
Mr Driver said council resources had been used "in effect to gamble in a casino".
"They have lost that bet and it is going to be the local people of Thanet, through their council tax, who are going to have to pay up for this stupendous mistake," he said.
He has asked the EC to investigate whether the council broke competition rules by giving an unfair advantage to TransEuropa.
He also complained that TDC failed to notify the EC, local taxpayers or elected councillors that it was providing rescue aid.
TDC said in a statement it was satisfied it did not need the consent of the EC for its arrangement with the company.
"The council is satisfied that unlike the giving of grants, soft loans, loan guarantees, interest rate rebates, accelerated depreciation allowances, capital injections and preferential tax/rate reliefs, the rescheduling of invoiced debt does not constitute state aid," it said.
"As a result, the council did not require the consent of the European Commission to those arrangements."