Brighton nude cyclists ignore police advice to 'cover intimate areas'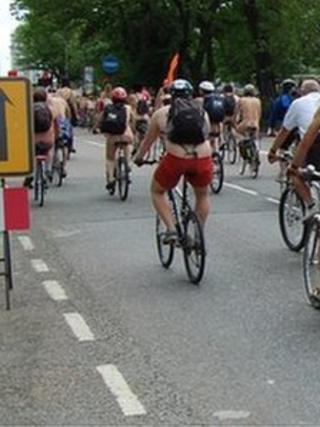 Hundreds of nude cyclists took to the streets of Brighton, ignoring advice from police to "cover intimate" areas.
Organisers of the ride said it was to demonstrate the vulnerability of cyclists on the road and was a protest against car culture.
Prior to the ride police said they were concerned about the "distress" full nudity may cause people in the city.
The ride passed landmarks such as the Brighton Pavilion before finishing on Black Rock beach.
'Best possible taste'
Duncan Blinkhorn, from Brighton Naked Bike Ride, said it was the eighth year the ride had taken place.
"We're being a bit provocative and having a bit of fun with it," he said.
"We're demystifying the human form as well you might say, celebrating the human body and body power and we're doing that in an extreme way.
"But it's all in good fun and hopefully in the best possible taste as well."
Sussex Police said they had expected up to 1,000 riders to take part.
Ch Supt Nev Kemp said: "Nudity is not automatically an offence, but depends on the circumstances and intention of the person who is naked.
"I am, however, concerned about the distress that full nudity may cause to other people in the city.
"Our police liaison officers will, therefore, be encouraging anyone who is completely naked to cover their most intimate body parts from full public view."