Extra-toed Battersea Brands Hatch kittens 'quite unusual'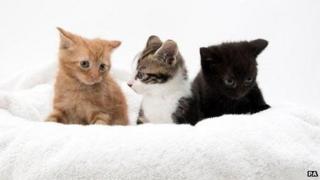 Three kittens that were brought to an animal home in Kent have been found to have an extra toe on each paw.
The five-week-old moggies arrived at Battersea Brands Hatch with their mother after their owner fell ill and could no longer look after them.
Cattery staff later noticed the kittens had 12 extra toes between them, due to a congenital anomaly.
Debbie Coker, who works at the centre, said to get three siblings with the condition was "quite unusual".
The charity is looking for homes for the trio, who have been named Pudding, Brenda and Niall.
Normal cats have 18 toes, five on each front foot and four on the back feet.
But cats with polydactyly, a medical term used to describe extra digits, have additional toes.
Ms Coker said staff sometimes saw cats coming in with extra digits on one paw.
"But to get three kittens in a litter with extra toes on all four paws is quite unusual," she said.