Short-haired bumblebees to be released on nature reserve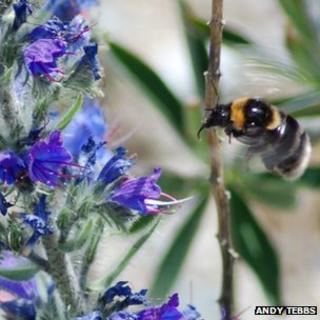 More short-haired bumblebees are to be reintroduced to the countryside in Kent.
The species of bee was once widespread across the south of England but vanished in 1988.
Last year, 50 queens were collected in southern Sweden and released onto the RSPB's Dungeness nature reserve.
More short-haired bumblebees, currently in quarantine to check for parasites, are due to join them on Monday.
The RSPB's nature reserve at Dungeness is home to most of the UK's seven species of rare bumblebee.
Nikki Gammans, from the Short-haired Bumblebee Project, said: "Kent is really the best place in the whole of the UK for bumblebees.
"We haven't found any yet from last year, but what we hope to do is a number of re-introductions, at least five, and then the numbers will pick up and we'll start to see them again."
Livestock have been moved around the reserve to ensure a supply of flowers to provide food for the bees.
The loss of the short-haired bumblebee (Bombus subterraneus) was caused by the dramatic decline of wildflower meadows that occurred after World War II as agriculture intensified.
It is estimated that 97% of Britain's flower-rich grasslands, which the bees needed to forage and thrive, have vanished over the past 70 years.