Lydd Airport: RSPB appeals over expansion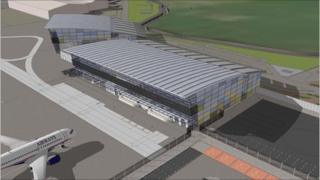 Campaigners opposed to development at Lydd Airport in Kent have lodged an appeal against a government decision to allow the airport to expand.
The £25m project, also known as London Ashford Airport, includes a runway extension of almost 300m (328yds) and a new terminal.
The RSPB and Lydd Airport Action Group have lodged separate appeals.
The airport's bosses said government permission for expansion was a "victory" for common sense.
The plans, which were initially proposed in 2010, were given the go-ahead by the government in April after a public inquiry.
Lydd Airport said development would see an increase of 500,000 passengers a year.
Chris Corrigan, the RSPB's South East regional director, said: "Dungeness is one of the most important wildlife sites in the world - it is protected at global, European and UK levels.
"Over recent years, our concerns about the impact of expanding nearby Lydd Airport led to the need to argue our case at a public inquiry.
"The stakes are too high to risk the future of one of our best and most important places for nature without testing the basis for this decision which we consider to be flawed."