Afghan teenager Najib Hashimi loses deportation appeal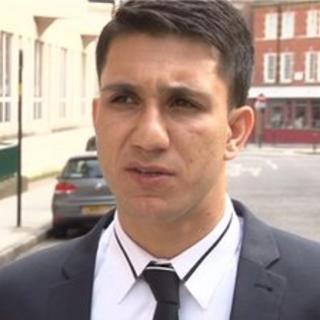 A teenager illegally smuggled into the UK four years ago has lost his fight to stay in the country.
Najib Hashimi, 19, has been living in Kent since he fled from Afghanistan as a child.
He had appealed against a Home Office decision to deport him, saying he came to the UK when his father and brother were murdered by the Taliban.
The Home Office confirmed his appeal had failed and he would be sent to Kabul.
A spokesman for the government department, said; "The UK only returns individuals, like Mr Hashimi, if both the Home Office and the courts are satisfied they do not need our protection and have no legal basis to remain in the country.
"We encourage these people to leave voluntarily and offer assistance to those who do so."
Mr Hashimi and his lawyers had until the end of the week to consider what course of action to take next.
His solicitor said they might contest the decision.
'Broken man'
Mr Hashimi has been in the UK since 2009, living with a foster family in Faversham.
He arrived in Kent as an unaccompanied minor at the age of 14, unable to speak English, and went to school where he achieved 14 GCSEs.
His foster father Steve Griffiths said the teenager was "a broken man" following the decision.
He said: "We are all devastated. We are all very worried for Najib.
"He is part of our family, he is part of our lives - you couldn't meet a nicer fellow.
"Najib has settled here, he has done very well in his education and he wants to give something back.
"There were so many people from throughout the community who went to support Najib ahead of the court hearing last month - we all want him here."
Mr Hashimi fled to Pakistan with his mother after his father and brother were killed.
His mother, sister and uncle still live there.
Mr Griffiths said: "Najib's absolutely beside himself. He is worried for his life, and he doesn't want to leave here.
"As we understand it, he will simply be flown to Kabul and then left to face it alone. It's terrible."
The UK Border Agency has said individuals are returned to their countries if they do not need protection and have no legal basis to remain in the UK.