Ramsgate hopscotch warning police officer to apologise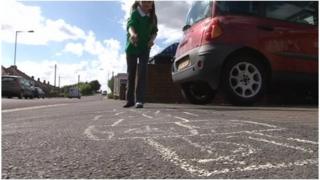 A police officer who told a 10-year-old girl drawing a chalk hopscotch grid on a pavement was criminal damage is to apologise to her.
Kent's Assistant Chief Constable Paul Brandon said the officer's response was wrong, over-zealous and disappointing.
Lily-May Allen, of Ramsgate, said she was scared when the officer said she could not "draw on the floor" outside her home in Ramsgate.
Her father, Bob Allen, lodged an official complaint with the force.
Mr Brandon said he genuinely believed the officer thought he was doing the right thing but he would be visiting the family to apologise.
He said Lily-May had been distressed by the incident and the officer's use of the phrase criminal damage would "clearly have frightened the young girl".
"The officer saw what was taking place and in essence really only just wanted to say 'don't do it', that was the intention," he said.
He said the use of the phrase criminal damage was inappropriate but there had been problems with graffiti in the area, not relating to young children, which officers did tend to deal with.
"He did what he thought was right. The way he approached it was wrong and I fully acknowledge that," Mr Brandon said.