Ramsgate girl's hopscotch grid 'sparked Kent Police warning'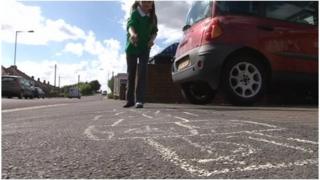 Police told a girl of 10 that drawing a chalk hopscotch grid on the pavement outside her house was criminal damage.
Bob Allen, from Ramsgate, said the officers frightened his daughter, Lily-May Allen, and has lodged a complaint with Kent Police, who are trying to trace them.
He said: "I'm so infuriated that they didn't come and knock on the door and ask to see me or her mum.
"They've just gone and said something to her and then just driven off."
Advice 'not necessary'
He added: "That's not the way for the police to deal with the problem, if there is a problem. And I don't think there is a problem here, so they shouldn't have said anything in the first place."
Lily-May said: "The police came over to me and said you can't draw on the floor because it's criminal damage. It kind of scared me."
Kent Police said they were trying to establish which officers may have spoken to the girl but could not trace any car in the area at the time mentioned.
A police spokesman said: "From the circumstances described, it would not appear to have been necessary to advise the young girl that chalking a hopscotch grid may be criminal damage and illegal."