Dreamland compulsory purchase by Thanet Council backed by judge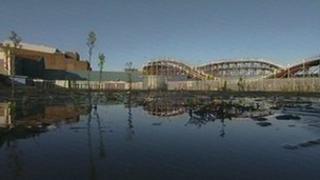 A decision to grant a compulsory purchase order for Margate's disused Dreamland theme park has been backed by a High Court judge.
Thanet District Council wants to turn the disused site into a theme park with historical attractions.
Owners Margate Town Centre Regeneration Company and eight other parties, had appealed against the government's decision to allow the purchase.
However, His Honour Judge Sycamore dismissed the application.
This has paved the way for the council to secure title to the land, which it must acquire before access to the site can be granted and work can proceed.
Working in partnership with the Dreamland Trust, it wants to create an amusement park with historical rides, classic sideshows, vintage cafes, restaurants and gardens.
'Frustrating'
The current owners, who are also known as DreamlandLive, proposed building 400 homes and a fun park instead.
They appealed against the government's decision on the basis it was "flawed". However, the judge disagreed and also refused permission for an appeal.
The council's chief executive, Sue McGonigal, said: "With overwhelming public support, and the vital funds in place, there has been no doubt about our commitment to see this project through.
"Getting to this point has certainly been frustrating, especially with the site left vacant and unused for a significant amount of time.
"Our focus now will be to progress with plans to dramatically regenerate Dreamland and I look forward to seeing the potential benefits this will bring to Margate."
The secretary of state for communities and local government approved the acquisition of the land for the heritage scheme in May 2011 after a public inquiry.
Under the council's plans, the Dreamland Trust would be given the site for a peppercorn rent.