Godwine Charter dating back 1,000 years in Canterbury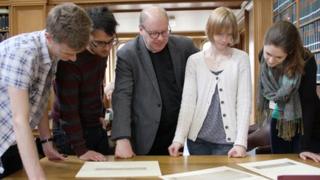 An Anglo-Saxon document that recorded the sale of land almost 1,000 years ago is to go on display during the summer.
The Godwine Charter, described as "exceptionally rare", was written in Canterbury, Kent, between 1013 and 1018.
It was kept at Canterbury Cathedral until the the 17th Century, before becoming part of a private collection.
The charter was purchased by Canterbury Cathedral Archives last month and has been returned to the city.
The charter records the sale by Godwine of the swine-pasture in Swithraedingden, thought to be Southernden in Kent, to Leofwine the Red for 40 pence and two pounds rent and an allowance of corn.
It was witnessed by people including Lyfing, Archbishop of Canterbury and the Abbot of St Augustine's Abbey.
Canterbury Cathedral Archives was awarded a £114,500 grant from the National Heritage Memorial Fund to help purchase the charter.
It also obtained grants from the Friends of the National Libraries, the Friends of Canterbury Cathedral, the Coral Samuel Charitable Trust and private donations to buy the document from the Schoyen Collection of manuscripts, through Sotheby's in London.
A cathedral spokesman said it was "almost certainly" the last complete text in Old English to come up for sale on the open market.
The Godwine Charter will initially be displayed at the Beaney Art Gallery and Museum in Canterbury from 15 June.