UKIP wins first Kent County Council victories but Tories keep control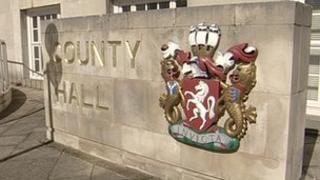 The Conservatives have retained control of Kent County Council but with a much-reduced majority after the UK Independence Party won 17 seats.
UKIP previously held one seat after a member defected to the party, so the wins in Thursday's election were its first at the polls.
The Green Party has won its first seat with Martin Whybrow taking Hythe from the Conservatives.
The Tories have also lost seats to Labour and Liberal Democrats.
'New third party'
The Conservatives held 45 seats and retained overall control but with a much reduced majority, losing 29 wards.
UKIP is the second largest party after winning 17 seats; Labour took 13; the Liberal Democrats seven and both Green Party and Residents Association have a single seat.
Seven out of eight seats in Thanet have been won by UKIP, with Labour taking the other one.
Keith Woollven, chairman of Maidstone UKIP, said: "We are very pleased with the results that we have gained both in Maidstone and in the whole of Kent.
"It confirms the fact that were now well placed as the third party in British politics.
"We're in line with what we were realistically expecting to gain which was an increased number of second places."
New Green councillor Mr Whybrow described his Hythe ward as a "ray of green light" surrounded by Conservative and UKIP seats.
Glass vials found
"It's been a remarkable morning here. There was a big turnout in Hythe, over 40%, so we were late in with the result compared to the others," he said.
"Over the last couple of weeks the confidence levels were growing because the reaction we were getting from the canvassing, from pounding the streets, was so positive.
"Obviously, as a little party, what we had to persuade people of was that we were credible."
The district count in Whitstable was delayed for about three hours after vials of a liquid were found in a ballot box.
Kent Police removed the items and took them away for analysis, according to a spokesman for Canterbury City Council.
In West Hill, Conservative Jan Ozog beat his mother-in-law Jo Shippam, who was standing for UKIP, to hold on to his seat.
'Absolutely wonderful'
Mr Ozog took 1,560 votes to Ms Shippam's 1,112.
Kent County Council leader Paul Carter said: "I have always said that 80% of local government elections reflect the national scene and 20% is the hardworking local councillors, and clearly that has been the case up and down the country.
"I think that national government needs to think long and hard about how it is going to change its direction on a number of issues, migration being one of them."
Labour's Angela Harrison won back the Sheerness seat she represented between 2005 and 2009.
She said: "Labour held the seat for 40-50 years up until the election in 2009, when the county lost all but two of its seats in the anti-Labour vote, so we have been out campaigning to regain that seat since then.
"It feels absolutely wonderful to get it back.
"It is a testament to the people that I have represented before, and that I represent on the borough council in Sheerness still, that they have put their trust in me to go back on KCC [Kent County Council} and look after the issues that matter to them."