Wayne Hemingway: Margate Dreamland to be more than a funfair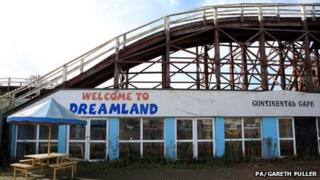 The redevelopment of the historic Dreamland theme park in the Kent resort of Margate should be more than just a funfair, its designer has said.
Outlining his plan for the site, Wayne Hemingway explained that the "thrilling historic rides" would only be one part of the park's revival.
He is working on the overall scheme and branding and said the site could also host festivals and performances.
The restored park should be for people of all ages to enjoy, he said.
It is hoped that stage one of the project to turn the site into a £10m heritage park will open in 2014.
'Up-cycled materials'
It will include a collection of restored thrill rides, salvaged from all parts of the UK and dating back to the 1920s.
The Grade II* listed Scenic Railway - the oldest rollercoaster in the UK - will also be restored and operated by a brakeman at the back, rather than being controlled by a computer.
Mr Hemingway said other ideas included using "up-cycled materials".
"Old waltzer cars that could make fantastic seats in a restaurant," he said.
"Another idea is a tea-cup cafe - sitting in the tea-cups from an old ride that can no longer be a ride because too much is missing.
"It's changing evocative things that may have ended up in a scrapyard and bringing them back to life."
HemingwayDesign is working in partnership with the Dreamland Trust and Thanet District Council to revive the amusement park.
More than £10m has been granted by the Department for Culture Media and Sport's Sea Change programme, the Heritage Lottery Fund and the council to fund the project.
However, the owner of the site, DreamlandLive and eight other parties, have appealed against a government decision to award a compulsory purchase order to the council, and the High Court judgment is awaited.
In the meantime, the Heritage Lottery Fund has given the council and the Dreamland Trust permission to start design work and restoring the rides.