Kent hospitals declare 'major incident' as demand soars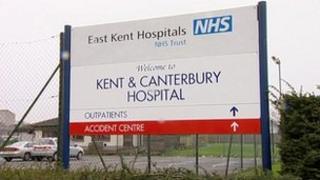 A health trust has put into place "major incident procedures" in order to be able to treat very sick patients.
The East Kent Hospitals Trust it had seen "unprecedented" numbers of patients at its A&E departments in Ashford, Margate and Canterbury.
Doctors' study leave and some clinic appointments have been cancelled, the trust said.
Outpatient staff will be redeployed to help with patient care on hospital wards.
Managers at the hospitals have been asked to clear their diaries to support doctors and nursing staff.
'Exceptional demands'
Demand for emergency services at the William Harvey Hospital, Queen Elizabeth The Queen Mother Hospital and Kent and Canterbury Hospital has risen throughout the winter.
On Friday, Dr Andrew Heller, divisional medical director, said the A&E units had seen demand double at some times of the day.
Overall there has been a 30% or 40%, increase in patients with the main pressures at evenings and weekends, he added.
The trust said surgery would go ahead as planned.
Dr Neil Martin, medical director, said: "The trust has taken this action in order to ensure that patients continue to be looked after well and safely despite the exceptional demands on the service".
Patients affected by the cancelation of clinic appointments would be notified directly, the trust added.