Kent youth PCC Paris Brown's tweets 'not checked'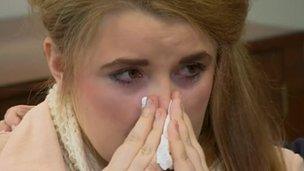 Recruitment procedures may be reviewed after Britain's first youth police and crime commissioner had to apologise for her comments on Twitter.
Paris Brown, 17, said she was "wildly exaggerating" in "stupid, immoral" tweets posted when she was 14, 15 and 16, before her appointment.
Kent police and crime commissioner (PCC) Ann Barnes said recruiters did not check her tweets or Facebook page.
"Perhaps that is a lesson for the future," she said.
"We went through a perfectly normal recruitment process. We had her vetted by the force and nobody normally looks through anybody's Twitter feed.
"Social networking sites are a no-go area for most of us adults.
"A lot of young people use them and say the most horrible things. They don't even think about what they are saying and I think this is what's happened with Paris."
The Mail on Sunday reported Ms Brown boasted about her sex life, drug taking and drinking on her account @vilulabelle on the social networking website.
The Twitter page has since been removed.
Paris, from Sheerness, has apologised and said the comments, posted between the ages of 14 and 16, had been "misinterpreted".
"All teenagers make mistakes, all teenagers think at one point 'oh I'm annoyed, write something stupid'… it's an age thing," she said on Sunday.
Ms Barnes said she had spoken at length to Ms Brown and would stand by her.
"She will be a better person for this," she said.
"I think she will be able to relate more to young people.
"Won't it be good if, from her own experience, she can try to get over to young people that [some things] they say on Twitter or Facebook are unacceptable?"
Ms Barnes said Ms Brown was selected for the £15,000 job from 164 applicants. The youth PCC post is to be funded from Ms Barnes's own £85,000 salary.
Ms Barnes said the tweets were rude, offensive, unpleasant and unacceptable.
"I don't condone them for one single solitary minute," she said
"Now that [Paris] knows and realises just how deeply offensive what she wrote is, she is really distraught about it, and so she should be.
"I have had some tweets myself about this, with people complaining about me in the most rude, offensive, vulgar language.
"I have had to delete them and those are from people who are probably my age."
Ms Brown, who is currently an apprentice at Swale Borough Council, is due to begin the one-year PCC post in July or August.
Related Internet Links
The BBC is not responsible for the content of external sites.