Deal council approves new coat of arms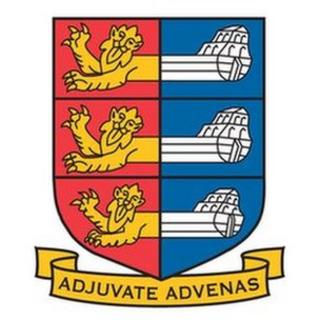 A Kent town has had its new coat of arms approved after use of its previous emblem was found to be unlawful.
Deal Town Council agreed that the new design would be used for civic and ceremonial purposes.
The council and Deal Town FC were told their original emblem was invalid as it was the old coat of arms of the Borough of Deal, which no longer exists.
The council will now use the emblem of the Confederation of the Cinque Ports, with the addition of the town's motto.
Deal mayor Marlene Burnham said last month it was "heraldry gone mad".
Coastline defence
She said: "The original estimate to replace the crest actually came back to the town clerk as £10,000 - absolutely utter nonsense."
The previous arms, featuring a Roman Centurion and a Royal Marine, were assigned to the Borough of Deal in 1968 by Letters Patent.
Deal Borough Council disbanded in 1974 and Deal Town Council was formed in 1996.
Town clerk Linda Dykes said the previous arms were thought to have been in continuous use since 1968.
The Cinque Ports are towns in Kent and Sussex given royal status in the 13th Century for defending the English coastline.