Herne Bay seal brings seafront to standstill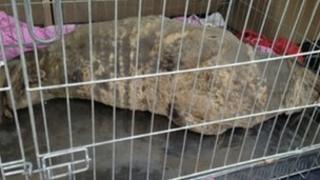 Traffic was brought to a standstill on a Kent seafront when a seal left the water, crossed a car park and lay in the road.
The young animal settled down in the road in Herne Bay while the RSCPA and coastguard mobilised.
John Brooks of British Divers Marine Life Rescue (BDMLR) said: "They quite often come out and sit on the beaches, particularly on rough days.
"But to actually cross a busy car park and busy road is very strange really."
Traffic had to be diverted while the seal was checked over and carried away.
"When we arrived we found one of the local coastguard, who is also a marine mammal medic, was sitting astride the seal in the middle of the road," said Mr Brooks.
"It had some minor cuts and bruises so we picked it up and moved it down to Hampton Pier where there was a little bit of shelter and a little bit of lee from the wind.
"We released it back into the sea and she swam off quite happily.
"It brought Herne Bay seafront to an absolute standstill for about 45 minutes."