Motorists warned to stay off Kent roads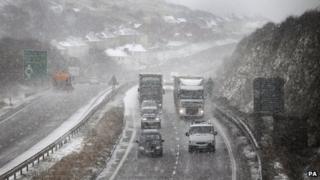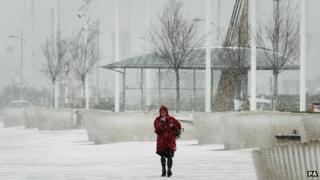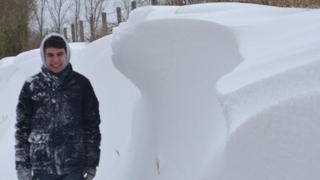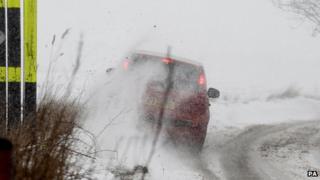 Drivers are being told to travel in Kent only if necessary, with snow, high winds and freezing temperatures expected to continue into the night.
Police say motorists still face problems, even though the major chaos of Tuesday morning has been resolved.
More snow is possible overnight, especially in the east of the county, and the Met Office is warning of ice on untreated surfaces.
Journeys through the Channel Tunnel are also severely affected.
Refunds for disruption
Eurostar has cancelled all its services for the remainder of the day because of the closure of the high-speed line in France and Belgium due to snow.
It hopes to run an amended timetable on Wednesday, but a number of services have already been cancelled.
A spokeswoman said affected passengers would be able to apply for exchanges and refunds.
Eurotunnel says its passenger services are still operating, but on a restricted timetable.
It has suspended freight journeys.
'Avoid M20'
Phase two of Operation Stack is in operation on the M20, meaning coastbound traffic is taken off the motorway at junction eight and lorries heading for the Channel Tunnel or Port of Dover put back, but held in a queue.
Police say the M20 should be avoided "at all costs".
And while earlier problems on the M2 have been cleared, a number of broken-down vehicles continue to cause delays.
Police and the Highways Agency are continuing to monitor wind speeds, which could force the closure of the Sheppey Crossing in the north of the county.
Rail operator Southeastern said trains had been delayed or cancelled and ferry companies also reported disruption.
Kent Police said the volume of snow in exposed areas had been a "major issue".
Gritters 'in traffic'
Acting Ch Insp Kay Maynard said: "As soon as roads were cleared and gritted, they were becoming covered in snow again."
The Highways Agency said: "We treated our roads continually throughout the afternoon and during the night, but a large number of incidents, including heavy goods vehicles breaking down on hills, caused closures at several locations.
"As a result, a number of our salt spreaders and recovery vehicles then became caught in the traffic.
"The welfare of people caught in the queues behind road traffic incidents has been paramount, and traffic officers and our colleagues in the emergency services have been making contact with people to ensure their well-being."
Many roads have been blocked or have slow-moving traffic after more snow fell across the county.
Latest local news, travel and weather
Vehicles abandoned
Earlier the M20 was blocked coastbound between junctions 11 and 13, with congestion back to junction nine.
The A259 was blocked in both directions near Brenzett at the A2070 junction, which is impassable due to snow drifts.
The M2 London-bound had very slow traffic between junctions four and one because of snow on the road and the A2 was partially blocked at Lydden in both directions.
The A261 at the main road in Hythe was also impassable.
Kent Police said it had dealt with "hundreds of calls" from motorists reporting broken down and abandoned vehicles, and collisions.
At least 100 people were stuck for more than four hours in Kent after a lorry jack-knifed in snow and ice on the A2 at Lydden, at 21:10 GMT on Monday.
A Highways Agency spokesman said: "There is a risk of ice overnight, but we are continuing to treat the network as we normally would."
The enhanced content on this page requires Javascript and Flash Player 9
Map Key
Land
Cloud
Lakes, Rivers & Sea
Fog
Light
Heavy
Frost
Light
Heavy
Pressure Fronts
Cold
Warm
Occluded
Rain
Light
Heavy
Extreme
Snow
Light
Heavy
Temperature tab only
Temperature (°C)
More details from BBC Weather