Sandy Ezekiel guilty of four charges of misconduct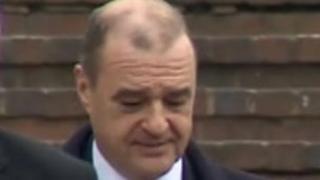 A former Kent council leader has been jailed for 18 months after being found guilty of four charges of misconduct in a public office.
Maurice "Sandy" Ezekiel, 59, of Crow Hill, Broadstairs, was convicted at Maidstone Crown Court of using inside information to buy two properties.
He was Conservative leader of Thanet District Council between 2003 and 2010.
Phillip Emanuel, 64, of Margate, was given a suspended sentence for aiding and abetting misconduct.
Judge Mr Justice Nicol sentenced Emanuel to 12 months in jail, suspended for two years.
Higher figure
Ezekiel committed the offences between September 2009 and February 2012, while he was a councillor and for a significant period leader of the council.
The trial heard how he used privileged council information to buy property at 12B King Street in Margate and later 12A King Street, with the assistance of his close friend, Emanuel.
Jurors were told an estate agent was given the job of selling 12B King Street on behalf of the district council, which had owned it for a number of years, in 2008.
Ezekiel had access to confidential information which outlined the price the council wanted to reach and offers made on the property, but already rejected.
Having shown no previous interest in the property Emanuel made an offer.
On the same day, the prospective buyer offered a higher figure. Two days later Emanuel increased the offer, which was accepted.
Derelict shop
Throughout the sale, Ezekiel's home address was given as a contact address for Emmanuel.
The neighbouring property 12A King Street, was a privately-owned derelict shop.
The court heard that through subsequent inquiries made of council staff Ezekiel requested enforcement proceedings be taken on the property.
The owners were given one month to start renovations but then decided it was too high a financial commitment and agreed to sell to the owners of 12B who they thought to be Emanuel.
The court heard Ezekiel lent Emanuel £125,000 to buy 12B, and the pair then purchased 12A, with the cheques for the deposit and completion on the property also from Ezekiel.
Legal documents related to both properties - in a regeneration area of Margate - showed Emanuel as trustee and Ezekiel as the buyer, which he failed to declare to the council.
Ezekiel had learned about the sale of 12B King Street from Thanet resident Ally Blackgrove, who had contacted him for his help with the purchase.
"As soon as I saw King Street I absolutely fell in love with it. It was perfect, it stole my heart," she said.
"I kept bidding for about six months and by the time I was getting to reasonable offers I was thinking something was going on; they [the owners] should at least be coming back to me with a meet-in-the-middle situation but that wasn't happening.
"Eventually they started saying if you bid this you can get it. They did that a couple of times and obviously I didn't get it."
Ms Blackgrove added: "I was asking him [Ezekiel] for help.
"Who can you trust, what are you supposed to do?
"If you can't ask someone like that for help who are you supposed to ask?"
In a statement following the trial, Thanet District Council said: "The council respects the decision of the jury and has co-operated fully in the investigation."