Great Wall of Ramsgate paintings vandalised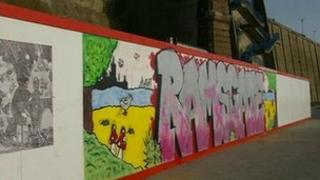 Vandals have defaced more than 60 original paintings on the hoardings of a seafront in Kent.
The collection of paintings, known as The Great Wall of Ramsgate, have been on show in the harbour for three years.
Of more than 100 paintings by local artists depicting the history of the town, about 60 were vandalised with oil-based white paint on Monday night.
Kent Police are investigating the incident, and have appealed for anyone with any information to come forward.
Joan Le Mesurier, the widow of Dad's Army actor John Le Mesurier, who lives in the town, described the vandalism as a "terrible disgrace".
She said: "The hoardings themselves were built there to hide an atrocity that has been standing there for the past 14 years.
"They [the artists] have put their time and their talents to add a little brightness along there, a little bit of colour."