Deal town and football club coat of arms 'unlawful'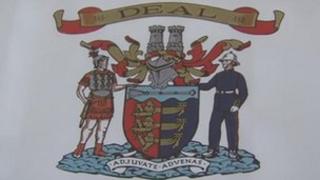 A town and its football club have been told that it is unlawful to continue using a coat of arms as their emblem.
Deal Town Council and Deal Town FC, in Kent, have learned their emblem is invalid because it is the old coat of arms of the Borough of Deal, which no longer exists.
The council said all letterheads and road signs will have to be changed, costing thousands.
Deal mayor Marlene Burnham said it was "heraldry gone mad".
The arms, featuring a Roman Centurion and a Royal Marine, were assigned to the Borough of Deal in 1968 by Letters Patent.
Deal Borough Council disbanded in 1974 and Deal Town Council was formed in 1996.
Town clerk Linda Dykes said the arms were thought to have been in continuous use since 1968.
'Utter nonsense'
She said she had made inquiries to the College of Arms, the official issuer of coats of arms, following a challenge from a member of the public.
"The College of Arms were most helpful and assisted with enquiries to see if the arms could be transferred to Deal Town Council," she said.
"Only when they had investigated further was it confirmed that the arms were granted to the Borough of Deal at a time when the borough included Walmer as well.
"As the present town does not have the same area the transfer of arms is not possible.
"The crest is not and never has been transferrable and should only have ever been used by Deal Borough Council."
Deal mayor Marlene Burnham said: "The original estimate to replace the crest actually came back to the town clerk as £10,000 - absolutely utter nonsense.
"It's also getting away from history. Let's face it, this is a very historic crest and it was presented in 1968 to the borough of Deal."
Deal Town FC have been told the emblem on their shirts will have to go.
Club chairman Dayle Melody said: "Immediately we could just put a patch over the face of it and be badge-less, but that's not something we want to do.
"It all depends how far the authorities want to go with regards to making us take it off.
"We've got five kits so that's £4,500 that we'd have to find to replace the kits."
The College of Arms said nothing could be done because the edict was part of the Local Government Act of 1972.