Maidstone 5,000 homes plan receives mixed response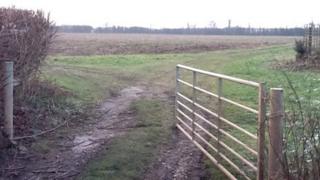 Plans for 5,000 new homes on farmland outside Maidstone are being put forward as part of a not-for-profit development.
The company behind the development, Golding Homes, said it wants to create a new "garden suburb".
Maidstone Borough Council said it needs to accommodate thousands of homes to meet demand in the coming years.
Environmentalists have raised concerns, calling the proposal "speculative".
The plans, which would see 350 acres developed, have been submitted to the council for consideration.
Dr Hilary Newport, director of Protect Kent, said: "It's a pernicious attempt to try an exploit the loopholes that exist in the current planning system because we are in a transitional status now.
"So this is a speculative proposal to try and push through something that hasn't been through any properly tested democratic planning process."
If given permission, the development would include social housing and affordable homes.
Chris Blundell, who is director of development and regeneration at Golding Homes, said: "Maidstone needs the number of homes we're proposing - it's very difficult to see other opportunities to provide them.
"This area has already been agreed by the council as being suitable back in 2007. What's more, actually producing this in one area is far more efficient in terms of the infrastructure and is likely to lead to much higher quality housing overall.
"I think it's got an excellent case to be made."