Kent County Youth Orchestra seeks class of 1963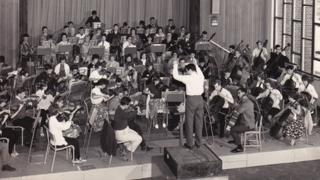 A Kent orchestra celebrating its 50th anniversary this year is trying to track down the musicians who took part in its inaugural performance.
The Kent County Youth Orchestra (KCYO) held its first concert at the County Grammar School for Girls in Tunbridge Wells on 16 August 1963.
Five of the original musicians have been in touch with Kent Music, which is holding a celebratory concert in April.
One of them, Janine Hyde, said she was keen to meet other former members.
'High standards'
She was one of four trumpeters at the first concert, playing under her maiden name of Seggery.
Ms Hyde went on to become head of music at The Folkestone School for Girls.
"The orchestra gave me essential training in orchestral discipline and an awareness of orchestral colour... I am greatly looking forward to meeting up with people from the original course," she said.
Another original member, Dr Andrew Jones, went on to become a senior lecturer in music at the University of Cambridge.
He recalled how the secret of the orchestra's success was the conductor Bela de Csillery, "who set very high standards and was never satisfied with anything less than our best".
'Important influence'
Mr de Csillery founded the orchestra and died at the age of 80 in 1996.
Dr Jones said the KCYO "was one of the most important influences on my development as a musician during my teenage years".
Peter Bolton, chief executive of Kent Music, said the 50th anniversary would be celebrated at a special performance at Mote Hall, in Maidstone, on 6 April, when the programme played at the first concert would be revisited.
He is hoping to hear from other orchestra members involved in that first performance, and said they would be invited to attend the concert.
"It will be fascinating to hear people's stories of their time with the KCYO and of some of the great concert venues and tours our members have experienced over the years," he said.