Ramsgate's Marlowe Innovation Centre to create more jobs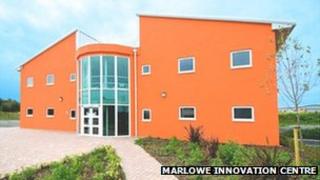 An innovation centre linked to a Kent academy is to use a grant of £350,000 to create 75 jobs and double its space for new small businesses.
The Marlowe Innovation Centre in Ramsgate is one of 20 seaside projects to receive grants of up to £2.6m each, the government has announced.
Eric Pickles, the communities secretary announced the grants at the centre which works with the Marlowe Academy.
An extension will be built to the building which opened in 2008.
A spokesman from the Marlowe Innovation Centre said it would "double its accommodation and support services to small businesses and start ups".
The balance of the £1m build cost will be provided by The Roger De Haan Charitable Trust, one of the original funders.
The innovation centre provides office space and light industrial units for use by new small businesses.
"Once the extension is built, twice as many Marlowe Academy students will benefit from contact with Marlowe Innovation Centre tenants," the spokesman said.