Kent huntsman Brian Fraser claims he 'was framed'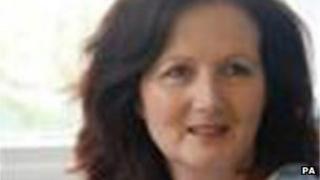 A Kent huntsman accused of trying to kill his former lover claimed he was being framed after a shotgun was found hidden on his land, a court has heard.
Brian Fraser, 63, told police he had no idea how the single-barrelled 12-bore shotgun, along with cartridges, came to be hidden between two hay bales.
Mr Fraser, of Criol Lane, Shadoxhurst, also said he had not owned a gun for 20 years, Maidstone Crown Court heard.
He denies attempted murder but admits possessing a firearm without a licence.
During a police interview he told police the last time he had used a gun was when he borrowed a firearm to shoot a fox about four years previously.
'Old hammer gun'
Jurors were told that he was surprised when being questioned about the shooting of his ex-girlfriend Louise Leggatt that a shotgun had been found on his land.
When shown a picture of the weapon, he told police: "My God, I have never ever ever seen that gun," adding: "We did find one years ago - an old hammer gun - but we never knew how that arrived ..."
The court heard that Ms Leggatt had told police he owned an unlicensed single-barrelled shotgun that he hid between hay bales.
Asked why she would say such a thing, Mr Fraser told officers: "Yeah, I don't know.
"It looks as though it could be a put up thing, but I can assure you, as true as I'm sitting here, that has nothing to do with me - the gun, the cartridges, anything."
Ms Leggatt suffered leg injuries when she was shot as she tended her horses in Benenden at about 21:30 GMT on 15 March.
She also had shotgun pellets in her bowel and pelvis, the trial has heard.
Prosecutors allege that Mr Fraser, who was a master of the Ashford Valley Hunt, tried to kill her "in a fit of pique" outside her home after she rejected his wishes for them to rekindle their relationship.
The pair had met in the early 2000s and Ms Leggatt moved in with him after her divorce in 2007.
The relationship deteriorated and he moved out in November 2011.
The shooting happened two months after arsonists attacked Ms Leggatt's home, forcing her to rent a property next door to where she was targeted.
The trial continues.