Tunbridge Wells residents urged to come up with plans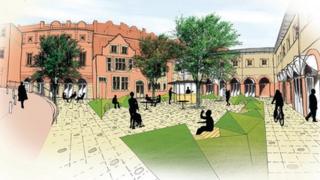 The people of Tunbridge Wells are being urged to come up with their own designs to improve the town's image.
Architects are encouraging residents to commit to paper their ideas in an effort to trigger changes.
Their project, So Create A Difference, features some of their own ideas, but they are keen for the public's input.
A key target for improvement is the former ABC cinema site in the centre of the town, which has been closed for more than 12 years.
The building, on the corner of Mount Pleasant Road and Church Road, has been dubbed top of the "grotspots" as it has continued to deteriorate amid years of perceived inaction by owners and the borough council.
Liberal Democrats on the council are urging it to use its powers to force the owners to improve the site, citing its own survey which showed overwhelming support for a compulsory purchase order (CPO).
The former cinema, which was closed in 2000, is in a conservation area, restricting its future use.
The council has previously said the cost of a CPO would be unjustifiably high.
A spokeswoman for the Royal Institute of Architects (Riba), which is backing the So Create A Difference project, said: "We are thinking big, but these can be really tiny changes. It's important to involve the community in these decisions."
A collection of the public's visions will be forwarded to the borough council for consideration.
Council leader David Jukes said: "I'm interested in any ideas that may be generated and trust that they will be shared with the council sometime in the future."