Ashford snowball race attack victim Ramanjit Sohi 'kicked like a ball'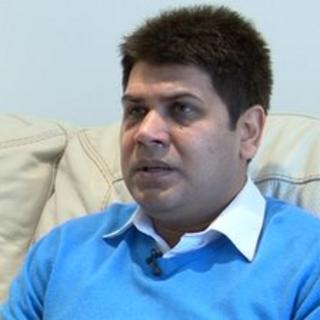 A man who was attacked and racially abused by a group of teenagers who were throwing snowballs at him has said he is shocked that no-one came to his aid.
Ramanjit Sohi, 33, suffered a fractured cheek bone and bruising in the assault in Sheepfold Lane, Park Farm, Ashford.
He said he was punched to the ground and repeatedly kicked "like a ball" as families played in the snow on Sunday.
Kent Police said four teenage boys had been arrested on suspicion of assault and released on bail pending inquiries.
Wife assaulted
It is believed as many as 12 teenagers, some aged as young as 14, were involved in the incident, which happened at about 14:30 GMT.
It is being treated by officers as an unprovoked racially aggravated assault.
Mr Sohi's wife was also assaulted and received minor injuries when she tried to get someone to call the police.
Members of the public eventually come to his aid when the gang had stopped their attack.
"This experience has shaken me a lot," Mr Sohi said.
He added it was the first time he had been the victim of racial abuse and the ordeal had left him feeling demoralised.