Ramsgate animal export demos 'cost £400,000 to police'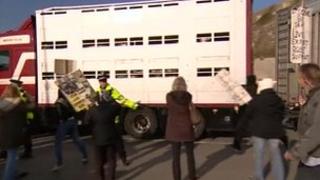 Policing protests against live animal exports from Ramsgate has cost Kent Police more than £400,000 over the last 18 months, the force has revealed.
A report to Kent's police and crime commissioner, Ann Barnes, showed there were 15 arrests and two police officers injured during demonstrations in 2012.
Ms Barnes said policing the protests was a "no-win situation".
But Councillor Ian Driver, who is one of the protest organisers, said he believed police costs to be nearer £1m.
The issue of the export of livestock has caused controversy in Kent for decades, beginning in Dover.
Dover Harbour Board halted the trade in April 2011, prompting the move to Ramsgate which is owned by Thanet District Council.
'Beyond peaceful protest'
The report, prepared by Chief Constable Ian Learmonth, said the primary role of Kent Police was to facilitate the lawful export trade and the right of people to protest peacefully.
But it said that events at Ramsgate in the latter half of 2012 went beyond peaceful protest.
Ms Barnes said if police deployed too few officers and someone got hurt they would be blamed, but if there were too many it would be considered a waste of money.
"They are in a bit of a no-win situation," she said.
"They have to put enough people there to make sure everybody is safe and to allow the trade to continue.
"Whatever we say, it is a legal trade. The protesters can't stop it, Thanet Council can't stop it and it has to be policed."
But independent councillor Mr Driver disputed the police figures.
"The chief constable doesn't count all the logistical support for policing the demonstration," he said.
"He is not counting the cost of the intelligence gathering work and nor has he counted the legal costs to the police force.
"My figure is more like £1m that has been spent."
Mr Driver also said that of the 15 arrests, five were "nothing whatsoever" to do with the protests.
"Of the other arrests only one person has gone to court, who went to appeal, and Kent Police's case was thrown out," he said.