Diesel spillage at Sandwich after oil tanker crash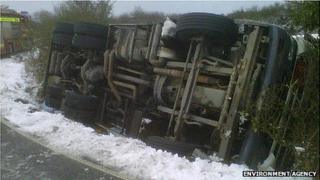 A fuel tanker carrying 13,000 litres of red diesel has overturned on an icy road and ended up in a ditch in Kent.
Police, fire teams and the Environment Agency were called to the incident in Richborough Road, Sandwich, at about 11:50 GMT.
Sandbags have been used to block off a stream that runs through the ditch and to contain the oil if it all spills, an Environment Agency spokeswoman said.
She said the oil would be pumped out before the tanker was removed.
"We are waiting for the necessary equipment to pump out the fuel and after that we will remove the tanker from the ditch," she added.
The tanker driver was unhurt in the crash, she said.
Environment Agency officer Jon Griffin tweeted that the tank had not spilt but the pressure of the oil in the valves had caused it to leak into the watercourse.
He said the agency was hoping to recover the tanker on Monday evening.
A Kent Fire and Rescue Service spokeswoman said firefighters were called to the scene but handed it over to the Environment Agency.
She said a team remained at the scene for public safety and to clear diesel that spilled from the tanker engine.