Bernadette Lee found dead in snow in Kent garden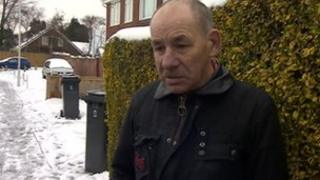 A woman has been found dead in the snow in a garden in Kent.
Bernadette Lee, 25, was found at the front of a house next to her sister's home in Deal.
She was discovered in Church Meadows early on Sunday by a man out walking his dog. She was wearing only a dress.
Kent Police said Ms Lee's death was unexplained but not suspicious. A spokesman said she was believed to have been on her way to her sister's house when she died.
Ms Lee's father Roger said his daughter was not wearing a coat or shoes.
"I just feel terrible because I will never see her again and she was gorgeous. Everybody liked her," he said.
A police spokesman said: "There are other possibilities we are looking at, but one theory is that this is a tragic accident where a young woman was on her way home from a night out, but she didn't make it to where she was staying.
"We don't know if that was because of the cold, or she slipped, or she was drunk, or she became ill."
A Facebook page has been set up, with friends expressing their shock at the death.
One friend, James Tehrani, said she was "funny, vibrant, chatty and very much in love with life".
A post-mortem examination is due to be held later in the week.