Kent schools closed amid sub zero temperatures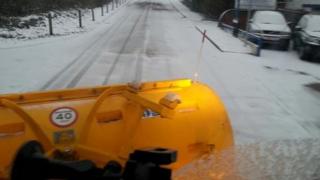 About 246 schools and nurseries were closed across Kent as icy conditions gripped the county for a fourth day.
The Met Office issued a severe weather warning for the whole of the South East, saying ice had formed where snow fell or melted on Sunday.
Commuters also experienced disruption after Southeastern cancelled more than 60 commuter services.
Kent County Council (KCC) said head teachers had to be sure that pupils could be kept warm and safe.
Safety of pupils
Mike Whiting, cabinet member for education, said school closures were "an individual decision".
"They understand their schools, they know where their children are coming from, they know where their staff are coming from, and you have to respect the head teachers' decision in those cases," he said.
"Underlying all that is the health and safety of the young people."
Councils in Kent said they had been prepared for heavy snow over the weekend and gritters fitted with snow ploughs were able to grit all primary and secondary routes.
Information updated
Highways manager Toby Howe said they had been out until 03:00 GMT on Monday to ensure all A and B roads were cleared.
He added that farmers had also been out treating minor roads.
One driver on a gritting truck in Bredhurst said the snow was coming down so thickly on Sunday that he was clearing the roads only to find more snow laying on the ground immediately afterwards.
Southeastern said that, with snow and sleet forecast for the South East overnight, more delays would be inevitable on Tuesday.
Spokeswoman Sarah Boundy said: "We are updating our website so as soon as we have the information, direct from control, it goes on our website and also on Twitter.
"Our station staff also get updates every 10 to 15 minutes. We've got an internal social networking website, but things change quickly."
Southern Rail said it ran an amended timetable on Monday, but with alterations and some cancellations, and said the same would apply on Tuesday.
First Capital Connect said on Monday afternoon that services would continue to be disrupted for the rest of the day because of the weather.
Eurostar cancelled several morning trains to Paris and Brussels and some afternoon arrivals on Monday.