Kent councils 'prepared' for heavy snow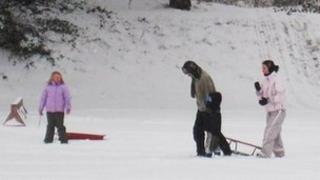 Councils in Kent said they were prepared for heavy snow over the weekend as gritters are again sent out overnight.
Kent County Council said advanced warning had allowed it to grit all primary and secondary routes.
And Medway Council said there would be "no respite" for gritting teams throughout Sunday and into Monday.
Rail company Southeastern said it had cancelled some early morning services for Monday.
Councillors praised residents for showing "community support" by clearing pavements of snow and ice.
However, in Deal a woman was found dead collapsed in the snow.
She was discovered by a dog walker between 07:00 and 08:00 GMT on Sunday, in Church Meadows. Investigations are ongoing.
'Community support'
Southeastern said it experienced delays to a number of services on Sunday and Southern Rail said it would be running an amended timetable for Monday.
Eurostar said four trains were cancelled due to the poor weather in England and northern France on Sunday.
The Met Office said snow would continue into Sunday evening but should gradually ease into the night.
On Monday it will be a largely dry but cloudy morning with the risk of the odd flurry of snow.
Speaking on Sunday morning, Toby Howe, the county council's highways manager, said: "We've made very good preparations, with gritters treating all our primary and secondary roads.
"If residents need to go out they should take extra care and extra time. Drive carefully and keep your distance."
Phil Moore, Medway Council's head of highways, said: "We had good advance notice of this snow, so on Saturday we were out gritting in huge numbers.
"We're getting a huge amount of community support, with local resents clearing pavements."
The enhanced content on this page requires Javascript and Flash Player 9
Map Key
Land
Cloud
Lakes, Rivers & Sea
Fog
Light
Heavy
Frost
Light
Heavy
Pressure Fronts
Cold
Warm
Occluded
Rain
Light
Heavy
Extreme
Snow
Light
Heavy
Temperature tab only
Temperature (°C)
More details from BBC Weather