Claire Tiltman: Candlelit walk on 20th anniversary of killing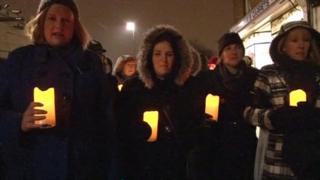 About 100 people have been on a candlelit walk to mark the 20th anniversary of the death of a murdered Kent schoolgirl.
Claire Tiltman was stabbed in north Kent and her friends vowed to get justice after both her parents died without seeing her killer caught.
The schoolgirl was knifed more than 40 times in an alleyway off London Road, in Greenhithe.
Her father, Cliff, died in September and her mother Lin died in 2008.
The Dartford Grammar School pupil, known to her friends as Tilt, was stabbed as she took a shortcut to visit a friend, four days after her 16th birthday on the 19 January 1993.
Her friends organised the walk to keep the case in the public eye.
The walk on Friday followed the route Claire took on the night she was killed.
Ch Supt Neil Jerome, who was a PC on patrol when Claire was murdered, said he believed someone out there held the key to solving the case.
He said: "It's sad that an entire family has been wiped out. Claire's parents have gone to their graves not knowing who killed their daughter.
"There must be witnesses who haven't come forward."