Job losses planned as Kent County Council saves £94m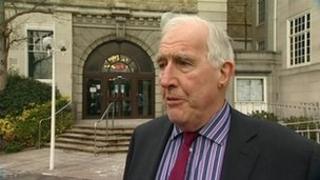 More than 100 jobs could be lost at Kent County Council (KCC) under budget plans for the next financial year.
The council said it must save £94m in 2013-14 but council tax will be frozen.
It said the savings needed were a result of the overall impact of reductions in government grants, freezing council tax and meeting additional spending demands.
KCC cabinet finance spokesman John Simmonds said frontline services would not be affected.
He said: "We're taking another £3m out of reserves and the other one which is perhaps catching the headlines is probably that there will be probably another 100 staff that will go."
Liberal Democrat opposition leader Trudy Dean said the reserve funds would have to be replaced.
She said: "The council was meant to be repaying some reserves it took out in earlier years and it's decided not to do that so there is already a figure of something like £30m that will have to be found next year to fund that transfer from reserves.
"That's the biggest raid on reserves certainly in my memory and that goes back 25 years."
And she added: "Staff will be very disappointed indeed having been told that we'd done the reorganisation of all reorganisations to see that there's another 100 jobs to go."
Next year's budget will be discussed on 14 February.