Westgate Towers road scheme 'dividing Canterbury' ends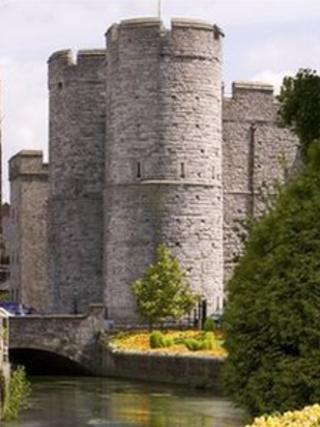 A traffic scheme that was brought in to protect a medieval gateway and improve air quality but "divided" Canterbury is to end, the city council has said.
The 12-month ban on traffic passing through Westgate Towers began in 2012, but thousands opposed the scheme.
Canterbury Council said it would have liked the scheme to remain while the trial was analysed.
But it said Kent County Council (KCC) as the highways authority had confirmed it would finish at the end of March.
Canterbury Council leader John Gilbey said: "It is fair to say the trial has divided the city and people on both sides of the argument raise many valid points in making their case."
He said the council believed the trial was the right thing to do, and should have had more time for assessment.
Mr Gilbey said keeping the scheme while the results were analysed would have been more cost-effective and caused less confusion for motorists.
'Significant challenge'
He added that the authority would analyse data from the scheme and was committed to working with KCC to tackle the city's traffic problems, lower pollution, ease flow, and find a permanent solution at Westgate Towers.
Canterbury Council said the scheme had been a joint project with KCC.
A KCC spokesman said: "We are all acutely aware of the high level of public interest in this trial and Canterbury clearly has its own set of highway challenges, many of which are created by the town's unique historic layout.
"Finding a solution that is acceptable to all is a significant challenge."
He said the road layout would be returned to its original configuration at the end of the trial period, and a thorough review would be carried out with all interested parties.