A2 reopens near Gravesend after car transporter crash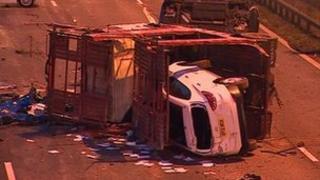 A stretch of the A2 near Gravesend is open again after being closed for nearly 10 hours when a car transporter crashed and shed its load.
Two people were injured in the crash, just before 15:00 GMT on Tuesday.
At least nine cars blocked the London-bound carriageway and two cars landed on the opposite carriageway, forcing that to be closed too.
That was reopened on Tuesday evening, but the London-bound carriageway stayed shut until early on Wednesday morning.
A number of motorists whose vehicles ran out of fuel or suffered flat batteries were stranded for hours.
Police handed out blankets to some occupants and worked with Highways officials to help remove stranded cars.
The driver of the car transporter is in a London hospital with serious but not life-threatening injuries. A second motorist was treated for minor injuries but was released from hospital the same day.