A2 closed near Gravesend after car transporter crash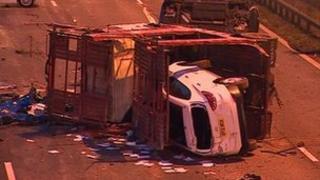 A stretch of one of Kent's major roads has partially reopened after a car transporter overturned, scattering its cargo across the carriageway.
At least nine cars had earlier blocked all four lanes of the A2 London-bound carriageway near Gravesend.
Two cars landed on the opposite carriageway, also causing its closure.
One lane between the A227 Wrotham Road/Tollgate services and the A2260 Northfleet/Ebbsfleet junctions opened at 21:30 GMT but the others are closed.
Kent Police said the three remaining lanes would remain shut for several hours while the lorry was recovered in a phased process.
Long tailbacks
In addition, some vehicles have broken down due to running out of fuel and flat batteries and they also need to be recovered from the hard shoulder, they said.
Diesel also needed to be cleared from the road and barrier repairs were likely overnight.
Police have issued blankets to stranded motorists and officers said they were offering any other help that was needed as quickly as possible.
Two people were injured in the crash, which happened just before 15:00 GMT - the driver of the car transporter suffered serious but not life-threatening injuries, and another motorist suffered minor injuries.
Kent Police said there were long tailbacks on both sides of the carriageway, and advised drivers to avoid the area.