Kent's children's services rated 'adequate' by Ofsted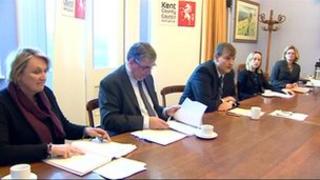 Children's services in Kent have been classified as "adequate" by Ofsted two years after hundreds of children were deemed at risk of "significant harm".
The watchdog said services had improved since November 2010 when 2,700 vulnerable children were without a social worker.
At the time Kent County Council (KCC) apologised and said children's services would become the top priority.
However, councillors said there was still room for improvement.
KCC leader Paul Carter said Ofsted had "moved the goal posts... and adequate is now good in old money".
"I'm very pleased [as] to where we are now."
Ofsted carried out a spot check at the end of 2012 and published the report earlier.
'High morale'
Key improvements recognised by the watchdog included an improvement in staff levels, a reduction in social worker caseloads to "manageable" levels, and an improvement in the identification of children at risk.
It also found that social workers now have high levels of morale and feel safer working at KCC than before.
However, the report also suggested that social workers needed to be more focused and robust, and meetings were often subject to "drift" and "delay".
Inspectors also said it was important to make sure social workers did not stop help for children too early and that managers needed to get better at checking the quality of work done by staff and give them regular feedback.
Jenny Whittle, who is the cabinet member for specialist children's services, said: "The report clearly states that children in Kent are now much more likely to be safe from harm than they used to be."
However, she said the recent report highlighted areas where services could be improved.
"There are issues we need to focus on which include stronger partnership arrangements with other child protection agencies in Kent," she said.
"The report does allude to the fact that partnership arrangements have strengthened considerably but there's still more we need to do."