Whitstable postal workers strike over Canterbury transfer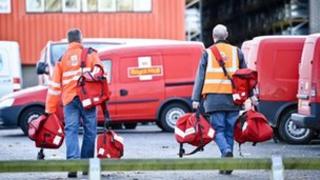 Postal workers at a delivery office in east Kent are striking on Saturday over the reorganisation of services.
Under plans announced by Royal Mail in 2010, the Whitstable office will close and operations will transfer to a refurbished centre in Canterbury.
The Communication Workers Union (CWU) said the workforce would have to sort their rounds in Canterbury before delivering the mail in Whitstable.
Royal Mail said it consulted with the union before its plans were announced.
It added that the Whitstable closure - where about 50 postmen and women are based- was part of a wider investment of £70m in the mail service in the county.
The transfer of work is due to happen this month, but the CWU said it would lead to more traffic on the roads during the morning rush hour, delays in deliveries reaching Whitstable, and longer distances for customers to travel to collect undelivered parcels.
'Two-year fight'
A petition in support of the workers was signed by more than 5,000 people, and public meetings have also been held in Whitstable.
CWU spokesman Chris Stone said: "We've been fighting this for two years now.
"We've written letters to all the agencies, to the Royal Mail, we've had public meetings, we've had marches, we've lobbied our MP, and none of it has made any difference.
"All we ever get is formulae responses from the Royal Mail, and now we're going on strike and all of a sudden the Royal Mail are suddenly talking, so we know we're making a difference."
He added that he did not think Royal Mail would want to see a second strike, and he hoped a compromise could be reached.
'Continuing talks'
In a statement, Royal Mail said it was in discussion with the union, but the implementation of the operational changes was a vital part of the modernisation of its business.
It added that during the consultation period in 2010 no objection was raised to the proposal, which it did not expect would have any impact on deliveries to customers in Whitstable.
"Royal Mail will continue talks with the CWU to try to avert any industrial action.
"If a strike goes ahead, we will do everything we can to minimise any disruption to customers," it said.