Ivan Esack guilty of murdering wife Natalie in Ashford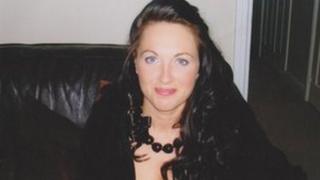 A former policeman has been found guilty of murdering his estranged wife at her hair salon.
Ivan Esack, 38, of Ashford, had admitted killing 33-year-old Natalie Esack, but said he was suffering from diminished responsibility.
The jury at Maidstone Crown Court convicted Esack of murder following a trial that lasted four weeks.
Mrs Esack was stabbed 11 times at her salon in Ashford High Street after she began a relationship with another man.
'Most precious person'
In a statement following the verdict, her family said: "There will never be true justice for our loss. No-one should have to bury their daughter or sister at such a young age, just because someone else had decided to take them away from everyone they love.
"The most precious person has been ripped from our lives and we would ask that anyone who may be suffering like Natalie to please seek help before it is too late.
"We, as a family, are all totally devastated at the loss of such a truly wonderful daughter, grand-daughter, sister and friend.
"Anyone that was lucky enough to come into Natalie's life would tell you the same, that she was the most caring, selfless and genuine, happy outgoing person.
"Natalie was the head of our small family. We all looked up to and respected her."
Her former husband is due to be sentenced at Maidstone Crown Court on Monday.
During the trial the jury was shown CCTV footage of Esack, a former Kent detective, buying a knife in a supermarket before heading to the salon and attacking her, allegedly saying: "She deserved it, the bitch."
Esack, of Rosewood Drive, declined to give evidence at his trial but had told police he had intended to kill himself in front of her after being badly affected by her beginning a new relationship after the couple had split up.
The court was told Mrs Esack's boyfriend, Justin Khadaroo, begged her to go to the police after Esack sent her threatening text messages and phone calls which turned her into "a nervous wreck and absolutely petrified".
'Controlling and calculated'
But Esack's barrister told the court a psychiatrist believed Esack was suffering from two psychiatric disorders which made him "a severely disordered individual" at the time of the killing.
Det Ch Insp Paul Fotheringham, of Kent Police, said: 'Esack is a controlling, calculated individual who believed he could fool the jury. It is satisfying to see justice has been served in this case.
"Natalie Esack was a good, honest, kind and caring person who did not report the abuse she suffered. She was a private person who was worried that a criminal record would hinder Ivan's future career prospects as a football agent.
"She paid the ultimate price for her silence and I hope her tragic murder will encourage other people who are suffering domestic abuse to come forward.
"This case highlights the horror that victims of domestic abuse can suffer, Ivan did everything he could to control Natalie and when he realised he could no longer have her, he made the decision that no one else could either."