Kent teenagers filmed throwing kitten around bedroom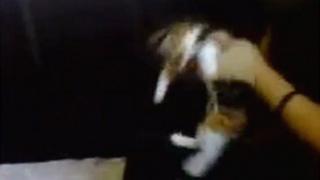 Two teenage girls have been banned from keeping animals for a year after video footage of them hurling a kitten around a bedroom was spotted on Facebook.
The girls, aged 15 and 16, from Sheppey, in Kent, were also given nine-month referral orders after admitting causing unnecessary cruelty to the cat.
A third girl, also 16, denies causing cruelty and aiding and abetting the other two, and will face trial later.
The kitten, which was eight weeks old, survived and has since been rehoused.
'Hitting the ceiling'
The girls filmed their actions on a mobile phone in August 2012.
Maidstone Youth Court was told the footage was subsequently posted on Facebook, where a member of the public who saw it reported it to the police.
Officers who interviewed the girls called in the RSPCA to investigate, leading to Monday's court hearing.
In the film the small female tortoiseshell is seen hitting the ceiling, at which point the RSPCA said she would probably have been unconscious.
She is then thrown at least twice more, hitting a wall. Laughing can be heard in the background.
'Shocking' footage
A vet who examined the kitten said it was miraculous it had not suffered serious injuries.
RSPCA chief inspector Steve Dockery said: "This was shocking footage of young girls violently throwing an eight-week-old kitten around.
"The girls' commentary on the video shows that they found their actions to be hilariously funny, which is worrying."
He added: "The abuse of a young animal purely for entertainment cannot be tolerated, and posting it on a social networking site sends out a message that animal cruelty is acceptable."