Wife killer Ivan Esack 'intended to cut his own throat'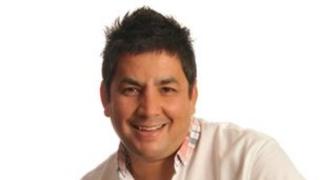 A former policeman who stabbed his estranged wife to death told a psychiatrist he had intended to kill himself, a jury has heard.
Ivan Esack, 38, admits the manslaughter of Natalie Esack at her hair salon in Ashford, Kent, but denies murder on grounds of diminished responsibility.
Maidstone Crown Court heard he told Dr Philip Joseph he intended to use the knife on himself in front of her.
The court has heard he "snapped" when Mrs Esack told him get out.
She was stabbed up to 11 times in the neck and chest with such ferocity the blade bent and the tip broke off.
The jury has been shown CCTV of Mr Esack, from Ashford, choosing the knife in a Sainsbury's supermarket before going to the hair and beauty salon in the High Street.
Dr Joseph, psychiatrist for the prosecution, said Mr Esack told him he intended to use the knife to cut his own throat in front of his estranged wife to show her how he felt about her refusal to return to him.
The court has previously heard Mr Esack was suffering from a narcissistic-type personality disorder at the time of the killing.
Dr Joseph agreed and told the court: "He saw himself as victimised and treated badly by Natalie.
"He said he felt betrayed, totally humiliated and belittled. This fits with his personality disorder."
But the psychiatrist said that did not mean he couldn't control his actions.
"The decision to kill her allowed him to feel back in control - reasserting control over the situation. Not loss of self control," he said.
The trial continues.