Empty building dismays Tunbridge Wells Soup Bowl charity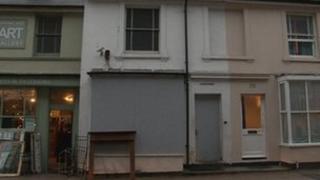 A council building from which a soup kitchen in a Kent town was told to leave nearly a year ago is still empty, angering local charity workers.
The Soup Bowl was forced to find a new home in June after using the building in Crescent Road, Tunbridge Wells, rent-free for 25 years.
The charity now helps the homeless from two churches, but deputy manager Tess Negri said it need not have moved.
Tunbridge Wells council said emergency accommodation was planned for the site.
The soup kitchen, which was set up by volunteers from St Augustine's Catholic Church, was given notice to leave the premises in February after the council said it was no longer suitable.
The local authority said more people were visiting the shelter, people were gathering on the street, and police had been called on several occasions.
Hot food
But Ms Negri said: "We could've still been using it. That is really what upsets me.
"If there was a family in there... I'd think 'fine, they have a priority'. But there isn't anybody there."
The building has been boarded-up since June, forcing officials from St Augustine's church to make alternative arrangements.
Volunteers currently offer soup and sandwiches from St James' Church hall, bags of food from St Augustines church, and hot food from the Crescent Road car park.
They said all attempts to find some other, larger, more appropriate premises had so far failed.