Saga's concern for missing Tenerife holidaymaker Peter Henley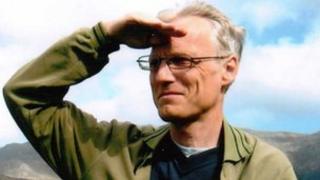 The employers of a Kent man missing in Tenerife since before Christmas have spoken of their "great concern".
Peter Henley, 50, from Dover, flew to Tenerife on 6 December and was due to return to the UK on 18 December.
He has worked for Saga, which specialises in products and services for the over-50s and is based in Folkestone, for nearly 28 years.
Director of communications, Paul Green, said: "There is great concern for Peter, a keen walker and photographer."
He added that the company had used its contacts in Tenerife to help with the search for Mr Henley, who produced the company's in-house staff magazine but was travelling independently.
"Our thoughts and prayers are with Peter and his family for his safe return," he said.
'Failed to check in'
As part of their investigations, Kent Police have been working with Interpol as well as a tour representative in Tenerife.
Officers said Mr Henley stayed in hotels in the resorts of Puerto de Santiago and Puerto de la Cruz.
He had booked further nights at a hotel in Costa De Silencio but failed to check in.
Mr Henley is described as white, slim, 5ft 10in (1.8m) tall, with short grey hair and blue eyes.