'Busy start' at Bluewater for Boxing Day sales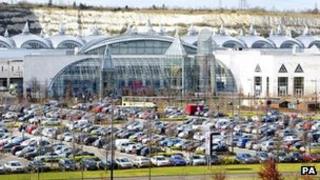 One of the UK's largest shopping centres was expecting up to 120,000 shoppers for the Boxing Day sales.
The first bargain-hunters arrived at Bluewater in Kent at about 01:00 GMT in readiness for the Next sale, where discounts of up to 50% were on offer.
More than 2,000 had arrived by 06:00 when the retailer opened its doors.
Robert Goodman, general manager at Bluewater, said it was "certainly one of the busiest starts ever" to the post-Christmas sales.
He said by 07:00, more than 3,000 people had arrived at the shopping complex, near Dartford - a four-fold increase on last year.
"Traditionally, the majority of visitors on Boxing Day are families, who visit to treat themselves and make a day of it.
"Visitors often arrive early to have breakfast before starting their sale shopping," Mr Goodman added.
He described the post-Christmas period as "our busiest of all" with about 900,000 visitors expected between Boxing Day and New Year's Eve.
On Christmas Eve, footfall at Bluewater was up by 20% compared to the previous year.