Kent 'needs £15m cuts on top of £60m'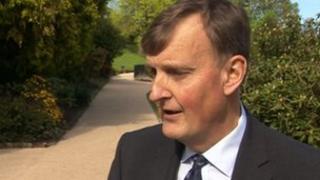 Kent County Council (KCC) has said it will need to save a further £15m from next year's £1.1bn budget on top of £60m it had already planned.
Council leader Paul Carter said it would have to revise its plans after details of government funding for local councils were announced on Wednesday.
Across England and Wales, councils' spending power will be 1.7% lower, but KCC said it would lose 1.9%.
Communities secretary Eric Pickles told MPs it was a fair settlement.
KCC said in September it would cut £60m (5.5%) from next year's budget.
Funding for adult social care was reduced by £18.8m (5%), children in care by £5.3m (3.7%) and education services by £3.5m (9.8%).
Mr Carter said he planned to freeze council tax for Kent residents for the third year running.
Cuts included £200,000 for sports development, £200,000 for Kent Music and £100,000 to Turner Contemporary art gallery in Margate.
Following Wednesday's announcement KCC said it would now need to find a total of £75m savings.
"We really have explored every area of efficiency," said Mr Carter.
"We have reduced the number of staff at Kent County Council by some 1,500 full time staff. We have really cut back on these costs to the bone."
"Finding this (extra) £15m is not going to be easy," he said.
"The tank is empty now. If we are to have any more reductions imposed upon us of significance it really will have an impact on front-line services."
Revised budget proposals will be published in January ahead of the county council's meeting on 14 February.