Geoffrey Clark: Voters reject ex-UKIP abortion row man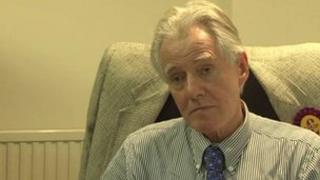 A by-election candidate suspended by UKIP after a row over compulsory abortion has been beaten by the Tories.
Geoffrey Clark came second in elections held on Thursday for Gravesham Borough Council and Kent County Council (KCC).
Mr Clark called for an NHS review to look at compulsory abortion of foetuses with Down's syndrome or spina bifida.
The ballot papers still listed him as a UKIP candidate, but the party said on Tuesday that if elected he would not serve as a UKIP councillor.
UKIP leader Nigel Farage said he believed that but for his "stupidity" Mr Clark would have won the Gravesham seat and gained more votes for KCC.
"Given the circumstances it just shows you how strong our vote is becoming," he said, adding that he would not want Mr Clark hounded out of the party.
"I don't think UKIP's name is tarnished because of the actions of one person."
'Free euthanasia'
Mr Clark called for a national debate and an urgent government review of the NHS, which he said "risks becoming unaffordable in the future".
He said the review should also look at medical treatment for those aged over 80, "which is disproportionately costly to the NHS" and might also include "legalising euthanasia and giving free euthanasia advice to all folk over 80".
Mr Clark did not attend the count for the seats made vacant by the death of Councillor Mike Snelling.
He came second to Conservatives Bryan Sweetland for KCC and Julia Burgoyne for Gravesham.
Results: Gravesham Borough: Con 419; UKIP 204; Lab 108; Lib Dem 36.
KCC: Con 1780; UKIP 634; Lab 397; Lib Dem 91.