Funeral for Battle of Britain ace Jimmy Corbin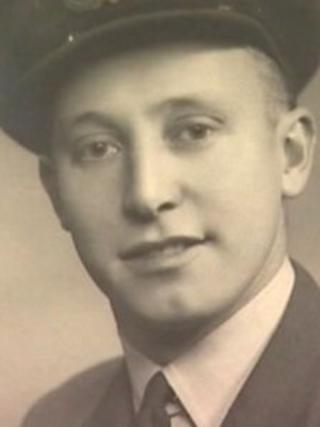 Family and friends attended the funeral of a decorated Battle of Britain fighter pilot from Kent.
Jimmy Corbin, 95, of Maidstone, was one of Churchill's famous "few" who battled the Luftwaffe in the skies above southern England in the summer of 1940.
He was awarded the Distinguished Flying Cross and was also one of the pilots who told their stories in the book Ten Fighter Boys.
A funeral service was held at All Saints Church, in Maidstone, earlier.
'Decisive battle'
The Battle of Britain began on 10 July 1940 and ended on 31 October when the German Luftwaffe were pushed back, preventing an invasion of Britain.
Historian AJP Taylor described it as the "decisive battle of the war".
Friends said Mr Corbin told them of his urge to protect his home town of Maidstone from attack spurred him on in "dogfights" with German planes.
Mr Corbin flew both Spitfire and Hurricane aircraft during the war.
He died at home in Bearsted, just outside Maidstone, on 7 December.